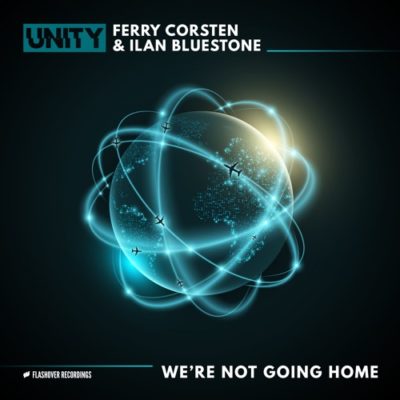 Ferry Corsten & Ilan Bluestone – We're Not Going Home
When two of the biggest trance titans come together to create a track, something magical is bound to come of it. And that's exactly what happened from the combined efforts of Ferry Corsten and Ilan Bluestone. Out now on Flashover Recordings, 'We're Not Going Home' is the latest edition of Ferry's UNITY series. The project's goal is to unite all divisions of trance despite all the different tempos and subgenres songs are now subject to.
Trance has always been emotive in how it spreads positivity and unity. 'We're Not Going Home' brings life to this mantra beautifully. The song is a standout portrayal of both Ilan and Ferry's production styles. Ilan starts off the intro with a steady driving bassline. Going into the breakdown, some airy piano chords are accompanied by snare drums. Listen to the synth progression as it beautifully flows in a repetitive but soothing fashion. Finally going into the drop, Ferry's take on this portion makes this track perfect to warm up the dance floor. At no point is the drop too hard which can take away from all the elements that the duo have interwoven together.
'We're Not Going Home' is the perfect song to add good vibes to your holiday playlist. Give it a listen below and enjoy!