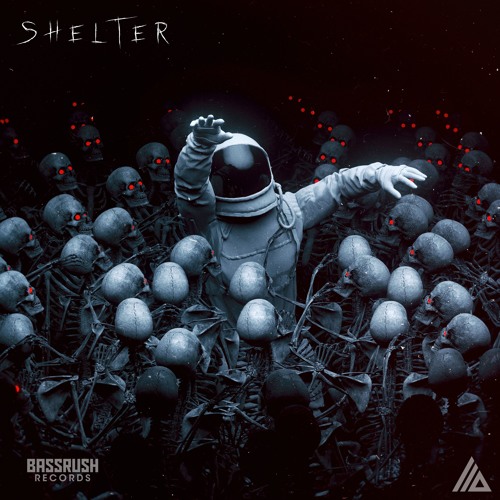 ATLiens – Shelter
The eerie masked duo ATLiens have just dropped a huge single. This one you aren't going to want to miss. With bone-chilling vocals and a giant stomping bass, this track bangs, and bangs hard. In fact, amassing nearly 50,000 streams over the weekend, this one is going to be a big summer anthem. The single titled 'Shelter' was released on Bassrush Records.
While this dirty tune is the second single the duo has released on Bassrush Records, it doesn't seem like it will be their last. In detail, their first track on the label, and very successful release was called 'Closer'. This spooky experimental tune also included a music video worth watching. Furthermore, ATLiens is preparing for some live shows coming up, and the mysterious duo will be dropping a new EP later this month.
Notably, they made their initial debut with the hit single 'Chief' which received national attention. Skrillex debuted the record at Boiler Room, and the track was supported by the likes of RL Grime, Diplo, and Jack U. ATLiens are most identifiable by their chrome masked faces and red illuminated eyes casting an eerie presence.
In closing, after recently completing a North American tour, ATLiens have upcoming performances at Get Freaky, Moonrise Festival, Dancefestopia, and Excisions very own Lost Lands. ATLiens have teased a large Tour coming this Fall with dates below.
ATLiens – Shelter | Stream
UPCOMING ATLIENS DATES
7/12 – Foam Wonderland – Fresno, CA
7/13 -Trapfest – Phoenix, AZ
7/14 – AIM Festival – Montreal, QB
7/27 – Foam Wonderland – Riverside, CA
8/10 – Bass Country – Grand Rapids, MI
8/11 – Moonrise Festival – Baltimore, MD
9/5 – Dancefestopia – La Cygne, KS
9/28 – Lost Lands – Legend Valley, Ohio
10/26 – Freaky Deaky – Baytown, TX