Insomniac Events East Coast confirmed a new festival is coming to Florida this year! In other words, Abduction 2021 will take place this year, more precisely on Saturday, April 10.
Pasquale Rotella brought this wonderful news as the EDM world received the tragic news of iconic duo Daft Punk breaking up. At least, the possibility of a high-quality event taking place very soon sweetens our day.
FLORIDA-PLANET EARTH: ADVISORY RELIABLE SOURCES HAVE CONCLUDED A MASSIVE ALIEN INVASION WILL OCCUR MID-APRIL WITH SITES SET ON ORLANDO AREA. WILL THEY COME IN PEACE OR COME TO PROBE IS A QUESTION THAT STILL REMAINS UNANSWERED. BEWARE OF BASS FREQUENCIES & UNIDENTIFIED SAUCER FLEETS OVERHEAD…GOOD LUCK HUMAN PARTY PEOPLE!!

Abduction 2021
Obviously, it will be an outdoor event. The Florida Invasion will start at 5 PM and will last until 12 AM. There will also be health safety checks like wearing a mask being mandatory and attendees undergoing temperature checks. The capacity will be reduced in order to guarantee the safety of the party-goers. The layout of the venue is already available, you can check it below.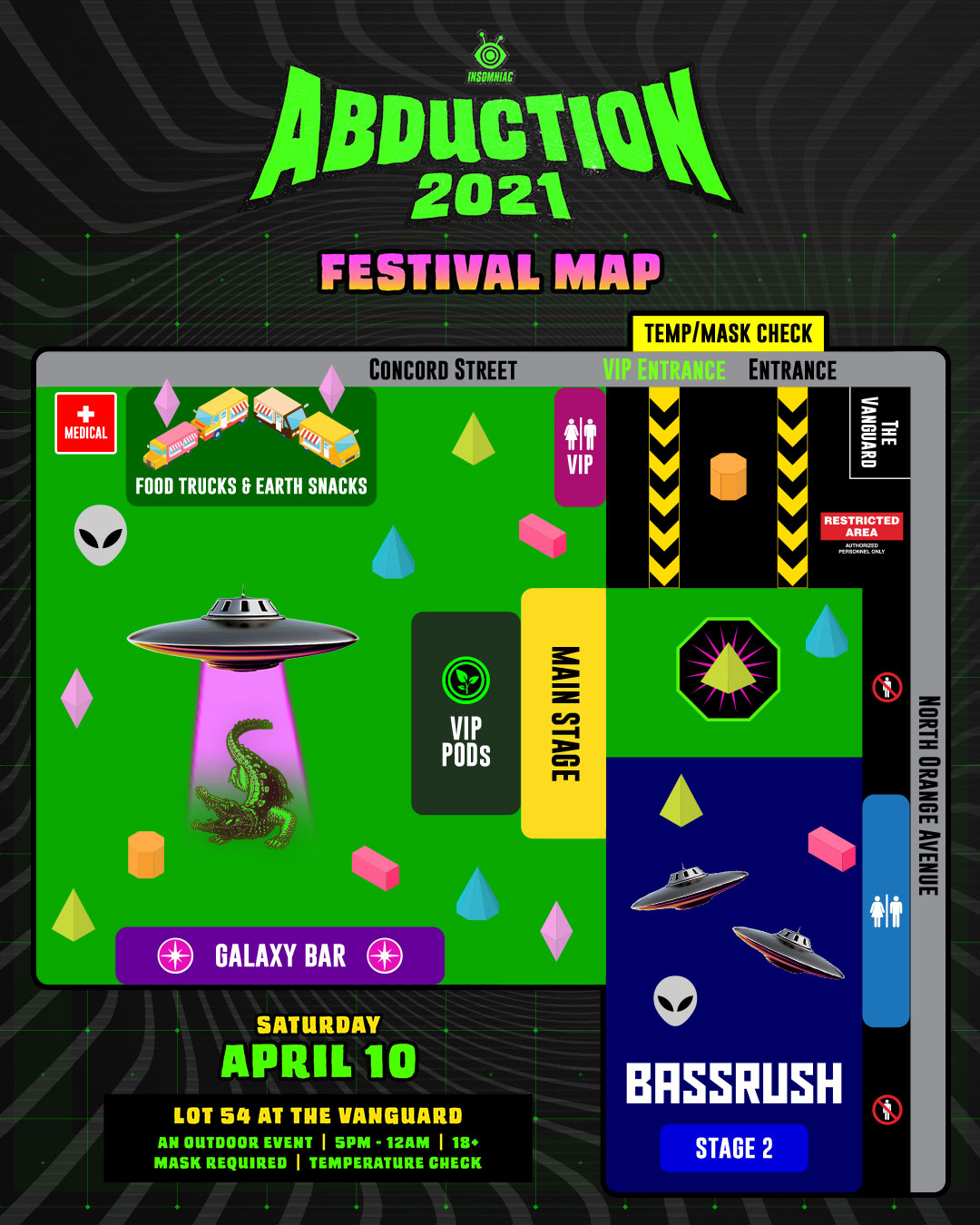 Although the event is coming so soon, there are still many details to discover. One of them is the line-up, but we expect some of the best bass talents for this show. Tickets will go on sale this Thursday at 12 PM ET. Abduction 2021 will take place in Lot 54 at The Vanguard, and the alien's theme is going to be out of this world.
If you want to discover the line-up and additional information regarding Abduction 2021, make sure to follow Insomniac Events. Also, we highly recommend paying attention to the ticket sale, as they will get sold out quickly.