There really isn't quite a festival like 88rising's Head In The Clouds. The record label that highlights some of the biggest Asian artists in the world including Rich Brian, Joji and NIKI, threw one of the most entertaining festivals of the year this past weekend in Pasadena, California at the Rose Bowl Stadium. Head In The Clouds featured 2 music packed days with artists of all genres performing at the festival and let's not forget all the incredible food and drink options that were available for purchase.
DAY 1
The first day, fans got to see quite the variety of music at the festival. Artists including Saweetie and Rich Brian represented the hip hop genre where as ILLENIUM and Elephante threw down heavy EDM sets. ILLENIUM was one of the biggest surprise performers at the festival and fans loved every moment of his bass induced, pyro blasting set. Elephante demonstrated his pure musical talents as he DJed, played his guitar and even sang many of the songs in his performance. One of the more interesting performances belonged to quick rising Japanese performers, ATARASHII GAKKO! The group consisting of 4 Japanese female teens dressed as school girls, sang and danced their way into everyone's hearts. To close out the first day, Rich Brian performed many of his classic tracks that left the crowd speechless.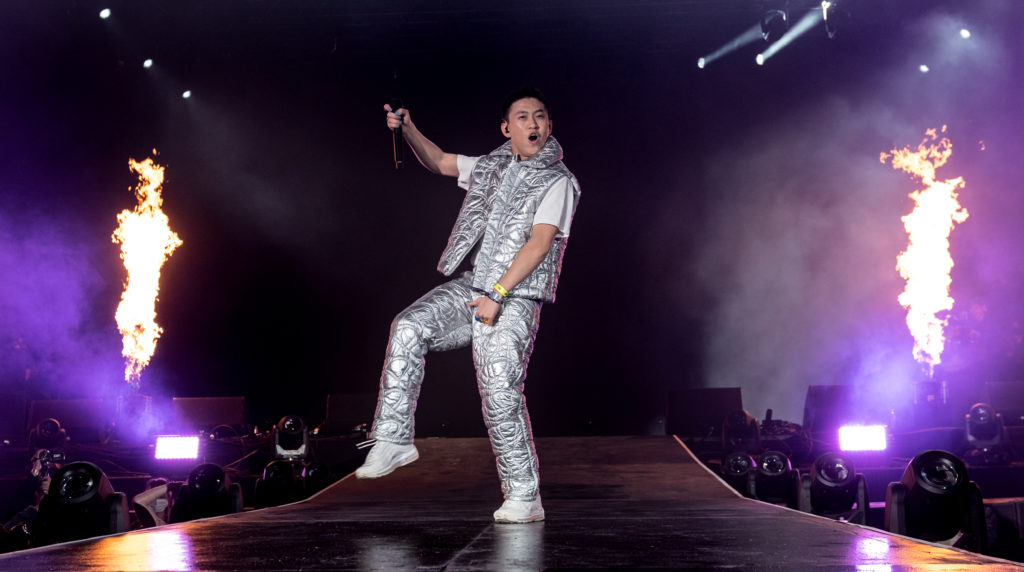 DAY 2
After a very impressive Day 1, everyone itched for more Head In The Clouds experience with Day 2. One of 88's quickest rising artists is Indonesia's Warren Hue. He took the stage early to demonstrate his artistic vocals to the crowd. As the sun began to set, Vietnamese superstar, keshi, took the stage to a huge roar from the crowd. he performed many of his classics on his guitar and even performed a few brand new unreleased tracks that left fans in awe. To close out Day 2, 88rising's superstars NIKI and Joji took the stage and performed unforgettable sets. Light-up sticks were passed out to the crowd so that there was a sea of lights coming from the fans to create an unbelievable ambiance.
FOOD / DRINKS
To add on to the experience, the food and drinks were just as impressive as the musical performances. There were alcoholic bubble teas and fresh coconut juice straight from real coconuts offered at the festival. There was a huge variety of Asian foods as well including noodles and dumplings that were nothing short of delicious. The food component is always a huge factor in a festival's experience and this year's options were beyond incredible.
Head In The Clouds festival has continued to improve year after year in every aspect of the festival. No matter where you are based in the world, this is a festival that everyone should make an effort to attend. There is no doubt that next year's festival will be even better so make sure to plan ahead!